Sire:

Ace High (AUS)
Dam:
Foaled in 2020
♂ Bay Colt
---
Foaled 13/10/20
---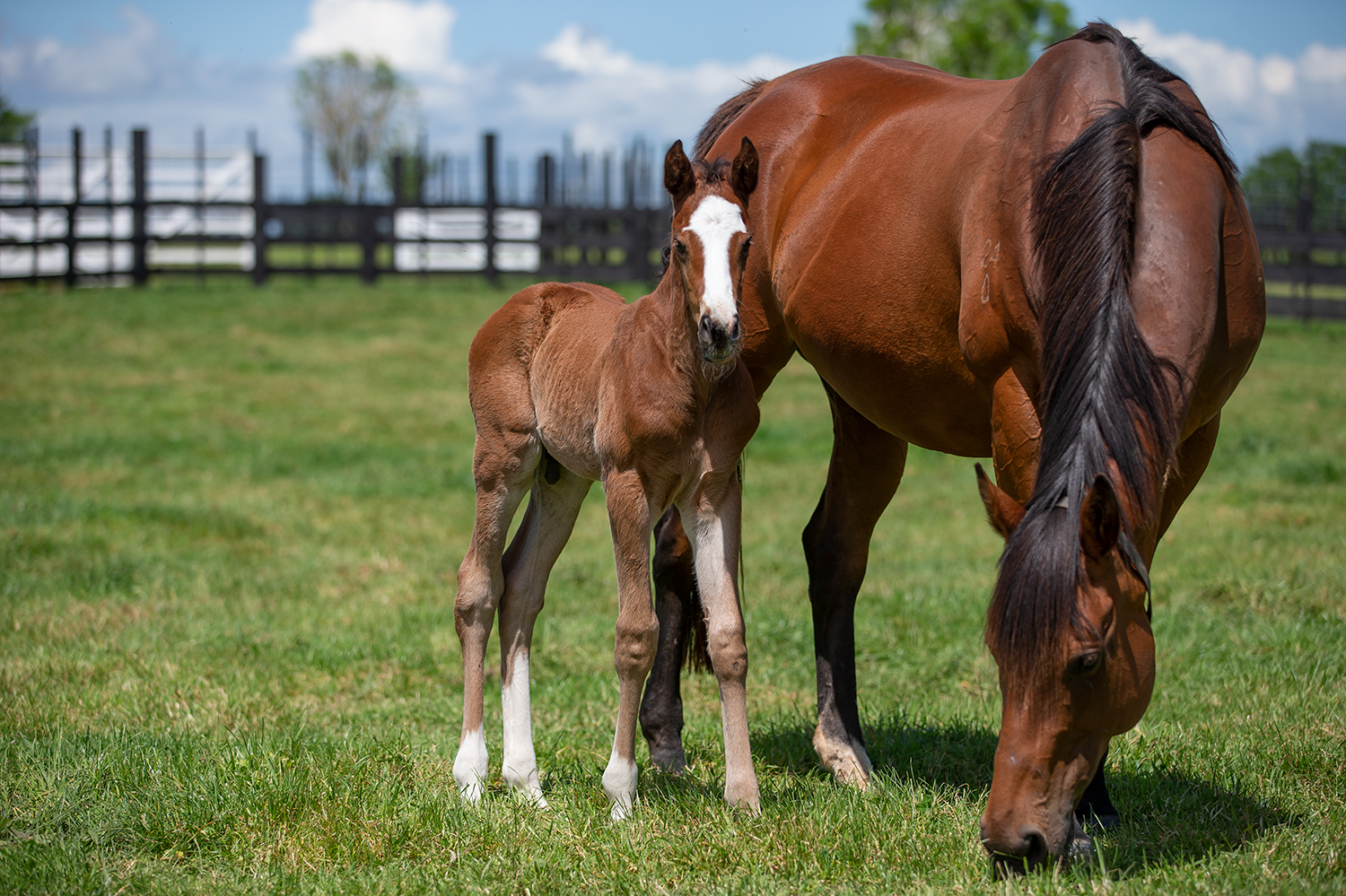 Dark and Stormy was unable to fulfill her real potential on the track due to an untimely injury. Her Ace High colt suggests that she will soon compensate for that as a broodmare producing this colt with real presence & quality.
---
Account of PENCARROW STUD, Cambridge.
Foaled 13th October 2020
Box Branded:
: nr sh; 37 over 0 off sh
Sire

Ace High (AUS)

2014

High Chaparral

Sadler's Wells

Northern Dancer

Kasora

Darshaan

Come Sunday

Redoute's Choice

Danehill

Sunday Service

Sunday Silence

Dam

Dark and Stormy

2010

Zabeel

Sir Tristram

Sir Ivor

Lady Giselle

Nureyev

Floridita

Fasliyev

Nureyev

Rose Pompadour

Indian Ridge
ACE HIGH (AUS) (Black or Brown 2014-Stud 2019). 5 wins-1 at 2-1400m to 2500m, A$2,269,325, VRC Victoria Derby, Gr.1, ATC Spring Champion S., Gr.1, Hill S., Gr.2, Gloaming S., Gr.3, 2d ATC Australian Derby, Gr.1, NSW Tatt's RC Chelmsford S., Gr.2, 3d MRC Peter Young S., Gr.2, 4th ATC Champagne S., Gr.1. Out of a half-sister to SW Winner's Way, SW Kneeling and SW That's a Good Idea. His oldest progeny are yearlings.
1st dam
DARK AND STORMY, by Zabeel. 2 wins at 1400m, 1600m, 2d ARC Rising Stars Championship Final, Dunstan Rising Stars Qualifier H., Hawkes Bay New Year H., 3d Manawatu RC Murphy Properties H., BOP RC Gartshore Construction H. This is her second foal. Her first foal is a 2YO.
2nd dam
Floridita, by Fasliyev. 2 wins-1 at 2-at 1200m, 2d CJC Canterbury Belle S., L, Emerald Lodge 3YO H. Dam of 7 foals, 5 to race, 3 winners, inc:-
Penelope Cruise. 4 wins 1400m to 2000m to 2020-21, Taranaki RC Coastal Agri, De Laval H., ITM Interprovincial H., 3d Taranaki RC Seaton Park S.
Summaroca - Circuit Mighty (H.K.). 3 wins at 1200m, 1400m, A$119,100, in 2020-21, VRC Royal Ascot Silver Bowl H.
3rd dam
ROSE POMPADOUR, by Indian Ridge. Unplaced. Three-quarter-sister to Rain Flower (dam of DANCING RAIN, SUMORA), half-sister to ZIND - SUPREME (Mal.), Rose of Jericho (dam of DR DEVIOUS, ARCHWAY, ROYAL COURT, SHINKO KING). Dam of 11 foals, 10 to race, 5 winners, inc:-
Floridita (Fasliyev). 2 wins. See above.
4th dam
ROSE RED, by Northern Dancer. Winner at 2 at 6f in Ireland. Half-sister to CRITIQUE, Cambretta (dam of ONLY, PLURALISME, SINGLETTA, CLASSIC TALE). Dam of 14 foals, 11 to race, 6 winners, inc:-
ZIND - SUPREME (Mal.) (Law Society). 2 wins at 2000m, 2615m, Singapore TC Queen Elizabeth II Cup, L, 3d Doncaster Racing Post Trophy, Gr.1.
Rose of Jericho. Unraced. Dam of 6 winners-
DR DEVIOUS (Ahonoora). 6 wins-4 at 2-5f to 1½m, The Derby, Gr.1, Leopardstown Irish Champion S., Gr.1, Newmarket Dewhurst S., Gr.1.
Breeze Hill. Winner at 2100m, 3d WRC Central Forklifts Group H. Dam of-
EVEN SO (Camelot). 3 wins-1 at 2-1m to 1½m, Irish Oaks, Gr.1.
Rain Flower. Unraced. Dam of 6 winners-
DANCING RAIN (Danehill Dancer). 4 wins 2017m to 2424m, £366,901, €238,500, The Oaks, Gr.1, Düsseldorf Preis der Diana, Gr.1.
SUMORA (Danehill). 2 wins at 2, Newbury St Hugh's S., L. Dam of-
MAYBE (Galileo). Champion 2YO Filly in Europe in 2011. 5 wins in succession at 2 6f to 7f, Curragh Moyglare Stud S., Gr.1.
Band of Angels. Unraced. Grandam of-
AWESOME PLANET (Giant's Causeway). 5 wins-1 at 2-1200m to 2020m, BTC Doomben Roses, Gr.3. Dam of 4 winners-
AWESOME ROCK (Fastnet Rock). 4 wins-1 at 2-1300m to 2000m, VRC Emirates S., Gr.1, MVRC Dato' Tan Chin Nam S., Gr.2. Sire.