Sire:

Zacinto (GB)
Dam:
Foaled in 2019
♂ Bay Colt
---
Foaled 02/11/19
---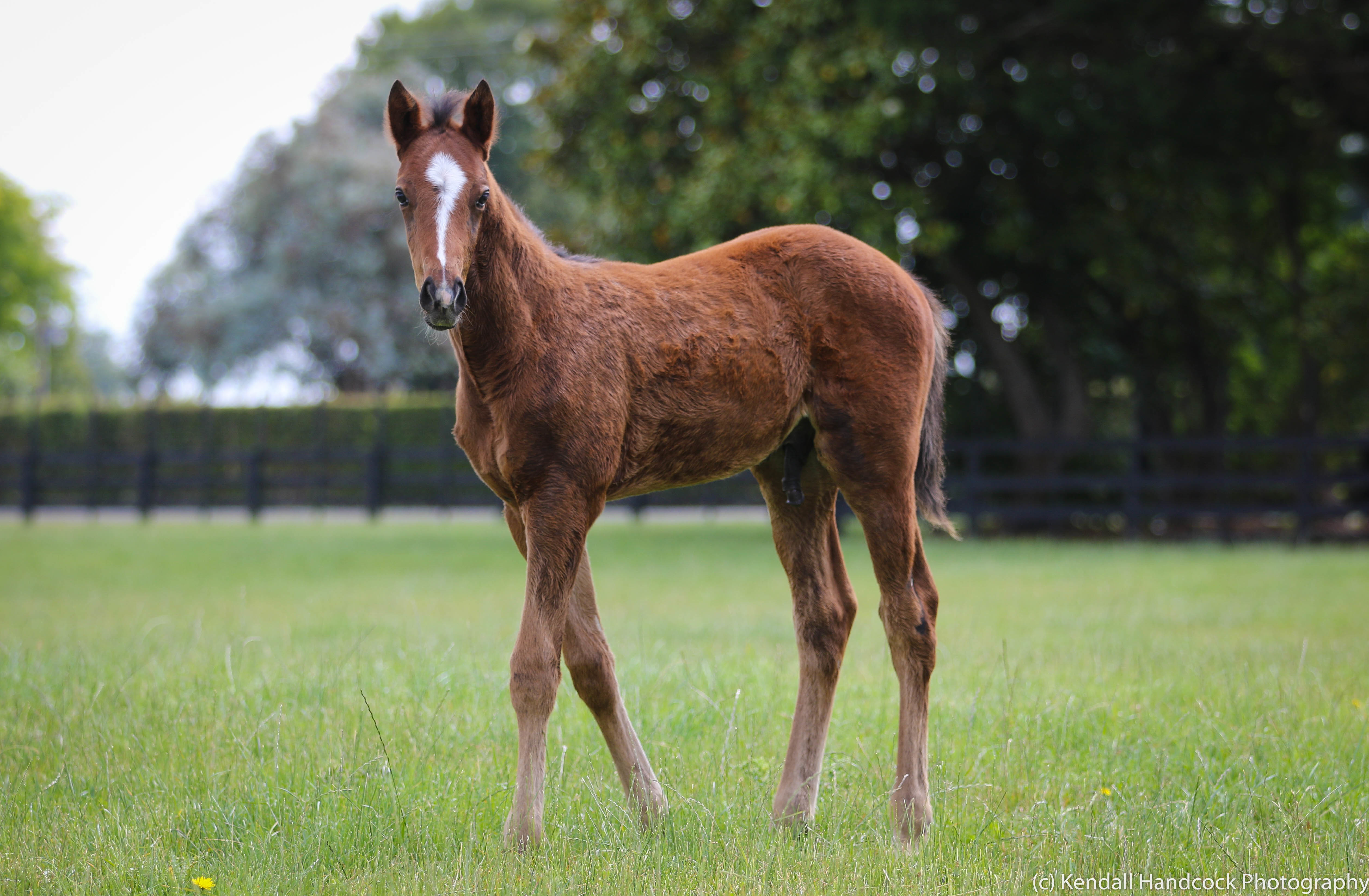 Mojave Aster has foaled an imposing colt by proven sire Zacinto. This Zabeel mare won three times and is a sister to multiple Group Two winner Lafleur. She was served by Almazour in 2019.
---
Account of PENCARROW STUD, Cambridge.
Foaled 2nd November 2019
Box Branded:
: nr sh; 44 over 9 off sh
Sire

Zacinto (GB)

2006

Dansili

Danehill

Danzig

Hasili

Kahyasi

Ithaca

Distant View

Mr. Prospector

Reams of Verse

Nureyev

Dam

Mojave Aster

2007

Zabeel

Sir Tristram

Sir Ivor

Lady Giselle

Nureyev

Desert Lily

Green Desert

Danzig

Habibti

Habitat
ZACINTO (GB) (Bay 2006-Stud 2012). 3 wins-1 at 2-at 7f, 1m, Goodwood Celebration Mile, Gr.2. Sire of 125 rnrs, 62 wnrs, inc. SW Ugo Foscolo (New Zealand Two Thousand Guineas, Gr.1), Secret Allure, Odeon, Vassilator, Zigwig, SP Brilliant Venture, Karalino, Monrecour, Miss Mandito, Charlie Horse, Son of Zac and of Navagio, Shadow King, Wize Act, Zawhip, Ares, Super Alliances, Aerohappiness, Banstead, etc.
1st dam
MOJAVE ASTER, by Zabeel. Winner at 1600m. Sister to LAFLEUR (dam of AMARYLLIS, PAPILIO), Zygadene (dam of WILDFLOWER), blood-sister to Zalika (dam of HUMIDOR), three-quarter-sister to Zasorceress. This is her sixth foal. Her fifth foal is a 2YO. Her fourth foal is an unraced 3YO. Her first three foals are unraced.
2nd dam
DESERT LILY, by Green Desert. Winner at 2 at 5f in Ireland. Sister to Desert Darling (dam of HEART OFTHE DESERT - HOSTWIN DONATELLO (Mac.)), half-sister to Reem Albaraari (dam of MORSHDI, ILITSHE). Dam of 9 named foals, 8 to race, all winners, inc:-
LAFLEUR (Zabeel). Third top filly on The 2002-03 NZ 3YO Free H. 3 wins at 1600m, 2000m, NZ$191,975, ARC Royal S., Gr.2, Waikato RC Sir Tristram Fillies Classic, Gr.2, 2d ARC Queen Elizabeth H., Gr.2, 4th New Zealand Oaks, Gr.1, Counties Cup, Gr.2. Dam of 6 winners-
AMARYLLIS (Red Ransom). 8 wins 1100m to 1300m, NZ$142,888, ARC Darley P., Gr.3, Blandford Lodge Yearling Draft H., Waikato RC Lodge City Rentals H., BOP RC Crane Hire H., 2d ARC Concorde H., Gr.2, 4th ARC Newmarket H., L, CJC Canterbury Breeders' S., L. Producer.
PAPILIO (Redoute's Choice). 4 wins 1200m to 1600m, Hororata RC South Island Thoroughbred Breeders' S., L, Hawkes Bay Billy's Bar H.
Zygadene. Winner at 1600m, 2d Taranaki RC Oaks Trial. Dam of 4 winners-
WILDFLOWER (Keeper). 4 wins 1500m to 1950m, NZ$227,175, Rotorua Challenge P., L, 2d Waikato RC Herbie Dyke S., Gr.1, Avondale Cup, Gr.2, 4th ARC City of Auckland Cup, Gr.3, Manawatu Breeders S., Gr.3.
Star Jasmine. Winner at 1200m. Dam of 4 winners-
Zasorceress (Zabeel). 2 wins at 1600m, 1800m, A$130,060, 2d VRC Schweppervescence Trophy, Gr.3, 3d ATC Adrian Knox S., Gr.3.
3rd dam
HABIBTI, by Habitat. Top of The 1983 European 3YO Classification (1000m-1200m). Top filly on The 1982 Irish 2YO Free H. 9 wins-3 at 2-at 1000m, 1200m, £259,812, 420,000fr., Royal Ascot King's Stand S., Gr.1, Newmarket July Cup, Gr.1, Prix de l'Abbaye de Longchamp, Gr.1. Half-sister to KNESSET, Great Klaire (dam of ST. KLAIRE), Eight Carat (dam of OCTAGONAL, DIAMOND LOVER, KAAPSTAD, MARQUISE, MOUAWAD). Dam of 11 named foals, 10 to race, 2 winners, inc:-
Desert Darling. Placed at 2 in GB. Grandam of-
HUMIDOR (Teofilo). 9 wins 1400m to 2000m, NZ$149,775, A$4,263,800, to 2020-21, VRC Australian Cup, Gr.1, Makybe Diva S., Gr.1.
Reem Albaraari. Placed at 2, 3d Ascot Blue Seal 2YO S. Dam of 6 winners-
MORSHDI (Slip Anchor). Champion 3YO in Germany & Italy in 2001 (Long). 4 wins-1 at 2-1636m to 2414m, Grosser Preis von Baden, Gr.1.