---
Foaled 26/08/20
---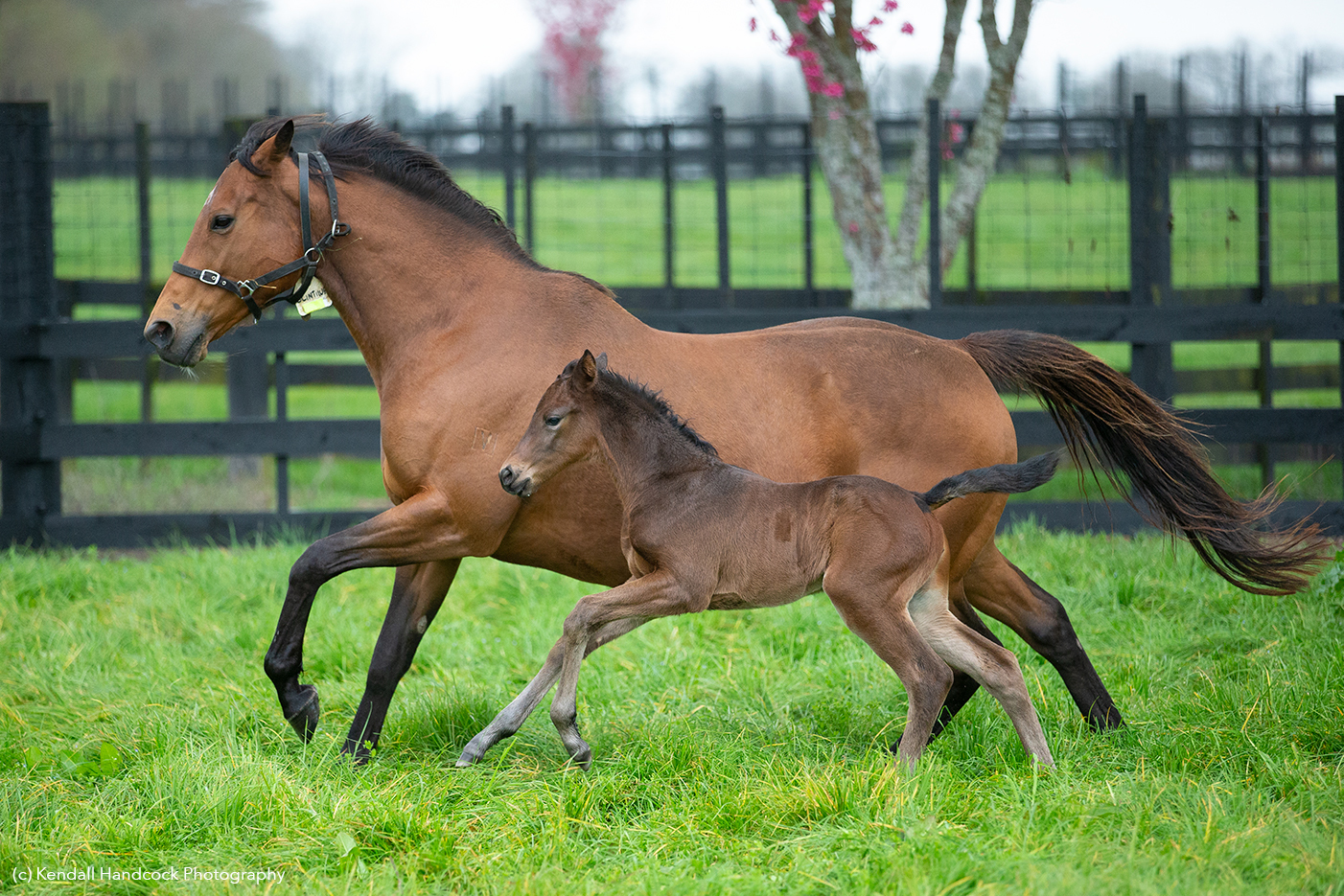 Scintillula has produced another valuable filly for the stud with the arrival of her filly by Savabeel. This Group winning Galileo mare has made an impressive start to her breeding career. Her first foal Birdsong has won three times from limited starts.
---
Account of PENCARROW STUD, Cambridge.
Lot 563
BROWN FILLY
Box H 26
Foaled 26th August 2020
Box Branded:
: nr sh; 6 over 0 off sh
Sire

Savabeel (AUS)

2001

Zabeel

Sir Tristram

Sir Ivor

Lady Giselle

Nureyev

Savannah Success

Success Express

Hold Your Peace

Alma Mater

Semipalatinsk

Dam

Scintillula (IRE)

2010

Galileo

Sadler's Wells

Northern Dancer

Urban Sea

Miswaki

Scribonia

Danehill

Danzig

Smaoineamh

Tap on Wood
SAVABEEL (AUS) (Brown 2001-Stud 2005). 3 wins-1 at 2, MVRC WS Cox P., Gr.1. Champion Sire in NZ 7 times. Sire of 1071 rnrs, 776 wnrs, 119 SW, inc. SW Probabeel (ATC Epsom H., Gr.1), Lucia Valentina, Sangster, Kawi, Costume, Soriano, Savvy Coup, Sword of Osman, Savaria, Cool Aza Beel, Embellish, Scarlett Lady, Mo'unga, Shillelagh, Concert Hall, Amarelinha, Diademe, Savy Yong Blonk, Nicoletta, Noverre, The Perfect Pink, etc.
1st dam
SCINTILLULA, by Galileo. 2 wins at 1m, 9f, £18,988, €127,115, NZ$4,000, A$4,110, Leopardstown Meld S., Gr.3, Irish Stallion Farms Fillies S., 2d Curragh Moyglare Stud S., Gr.1, Celebration S., L, 3d Leopardstown Ballyroan S., Gr.3, Gowran Park Denny Cordell Lavarack S., Gr.3, VRC Melbcupcarnival on Sale H., 4th Irish Oaks, Gr.1, Yorkshire Oaks, Gr.1, Curragh Royal Whip S., Gr.3. Sister to CUIS GHAIRE, THE MAJOR GENERAL, Claiomh Solais, Gile Na Greine, three-quarter-sister to Luminous One. This is her fourth foal. Her third foal is a 2YO. Dam of two foals to race, both winners-
Butter Chicken (f. by Savabeel). Winner at 1600m in 2020-21, 2d MRC Autumn Classic, Gr.2.
(Our) Birdsong (f. by Snitzel). 5 wins-1 at 2-1200m to 1412m to 2020-21, MRC Ladbrokes Bet Ticker H., Waikato RC Skycity Hamilton 2YO H., 3d MRC Gerry Ryan 70th Birthday H.
2nd dam
SCRIBONIA, by Danehill. Unraced. Sister to Luminaria (dam of LUNAR SPACE, PAENE MAGNUS), half-sister to LUMINATA, Aretha, Dathuil, Luminous One, Smaointeach (dam of TUSHNA). Dam of 12 named foals, 11 to race, 7 winners, inc:-
CUIS GHAIRE (Galileo). 3 wins in succession at 2 at 6f, £125,819, €87,447, Royal Ascot Albany S., Gr.3, Naas Swordlestown Stud Sprint S., Gr.3, 2d The One Thousand Guineas, Gr.1, Leopardstown Tyros S., Gr.3.
SCINTILLULA (Galileo). 2 wins. See above.
THE MAJOR GENERAL (Galileo). 2 wins at 1¼m, 1½m, Leopardstown King George V Cup, L, 2d Goodwood Gordon S., Gr.3.
Gile Na Greine (Galileo). Winner at 2 at 7f, £104,219, €30,017, Curragh Loder 2YO Fillies S., 2d Royal Ascot Coronation S., Gr.1, 3d The One Thousand Guineas, Gr.1. Producer.
Claiomh Solais (Galileo). Winner at 1m, 2d Fairyhouse Brownstown S., Gr.3, 3d Curragh Kilboy Estate S., Gr.3, Tipperary Fairy Bridge S., L, 4th Curragh Pretty Polly S., Gr.1, Irish One Thousand Guineas, Gr.1.
3rd dam
SMAOINEAMH, by Tap on Wood. 4 wins-1 at 2-6f to 1¾m, Tipperary Challenge S., L, Gowran Park Norelands Stud Trial S., L. Half-sister to DOUBLE FORM, SCIMITARRA, Galka, Angor (dam of NORDIC SOPRANO), Belle Epoque (dam of AMINATA), Societe Royale (dam of ROYALE, STARVINSKY). Dam of 11 foals, 8 to race, 7 winners, inc:-
LUMINATA (Indian Ridge). 2 wins at 2 at 6f, Leopardstown Silver Flash S., L.
Luminous One (Galileo). Winner, 3d Leopardstown Eyrefield S., L. Grandam of-
VERBAL DEXTERITY (Vocalised). 2 wins at 2 at 7f, £29,101, €256,725, Curragh National S., Gr.1, 2d Curragh Railway S., Gr.2.