---
Foaled 07/08/20
---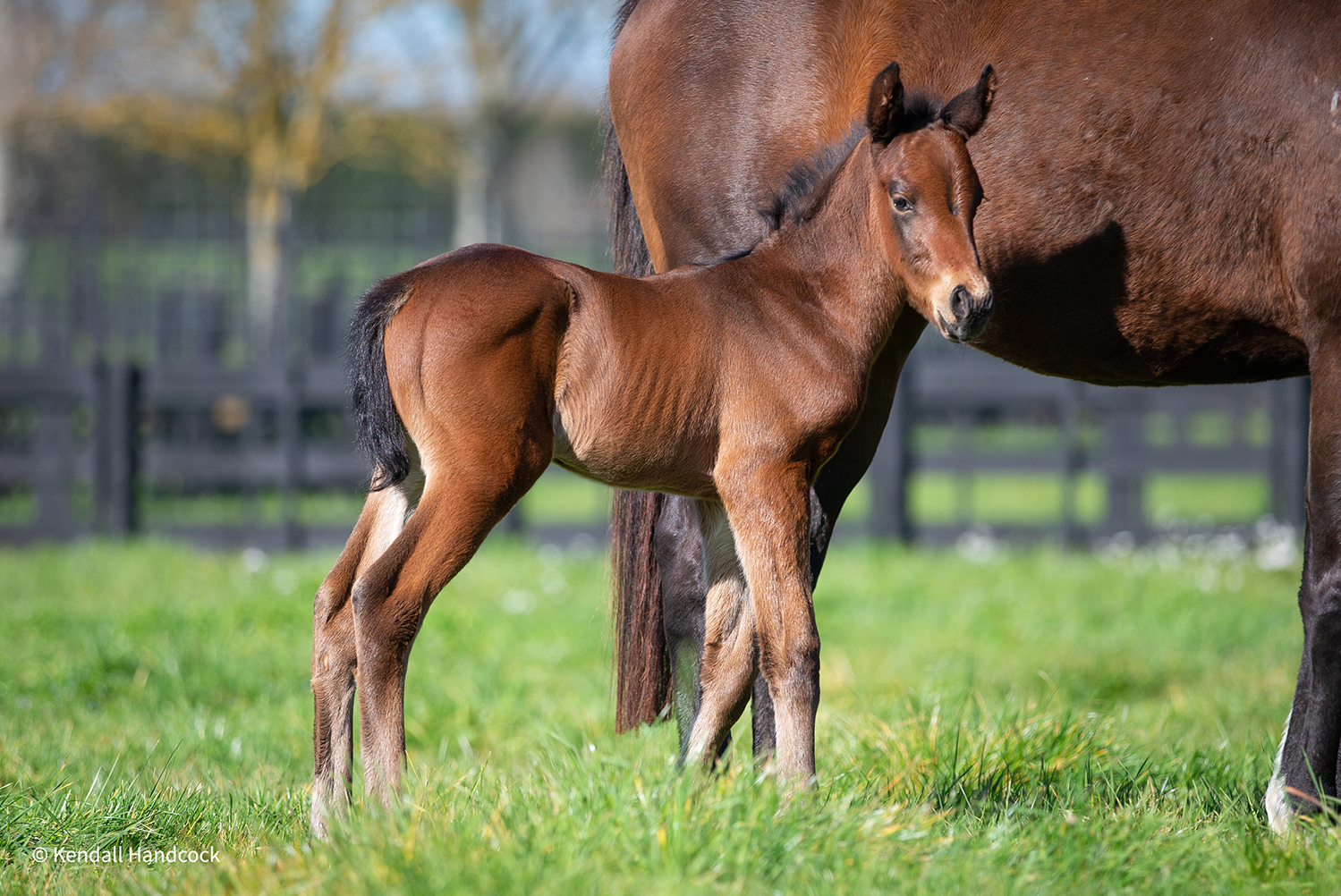 Sleeping Beauty has delivered her first foal, a bay colt by Iffraaj. He is a very athletic & correct individual. He weighs 54kg, a good effort for this maiden mare.
---
Account of PENCARROW STUD, Cambridge.
Foaled 7th August 2020
Box Branded:
: nr sh; 1 over 0 off sh
Sire

Iffraaj (GB)

2001

Zafonic

Gone West

Mr. Prospector

Zaizafon

The Minstrel

Pastorale

Nureyev

Northern Dancer

Park Appeal

Ahonoora

Dam

Sleeping Beauty

2012

Rip Van Winkle

Galileo

Sadler's Wells

Looking Back

Stravinsky

Kailey Princess

Danehill

Danzig

Hula Gold

Rheingold
IFFRAAJ (GB) (Brown 2001-Stud 2007). 7 wins-1 at 2, Goodwood Lennox S., Gr.2. Leading NZ Sire of 2YOs in 2015-16. Sire of 1621 rnrs, 977 wnrs, 81 SW. His SH-bred progeny inc SW Gingernuts (New Zealand Derby, Gr.1), Jon Snow, Turn Me Loose, Wyndspelle, Fix, Serena Miss, Western Empire, Melt, Order Again, Who Dares Wins, Kisses, etc. His NH-bred progeny inc SW Ribchester, Rizeena, Jungle Cat, Chriselliam, etc.
1st dam
SLEEPING BEAUTY, by Rip Van Winkle. 10 wins-4 in succession-1000m to 1400m, NZ$240,437, Rotorua S., Gr.3, BOP RC Tauranga Classic, L, Chesters Plumbing H., ARC Swiss Belsuites H., BOP RC Aongatete Coolstores H., Matamata RC Russell & Yvonne Green Memorial H.-twice, BDO Rotorua H., 2d ARC Westbury Classic, Gr.2, Taranaki RC Opunake Cup, L, ARC Dad's Pies H., 3d Counties RC Auckland Thoroughbred Breeders S., Gr.2. Half-sister to Prosperous Bid, Canny Princess, Sea Island (dam of HERCULIAN PRINCE). This is her first foal.
2nd dam
KAILEY PRINCESS, by Danehill. 3 wins 1300m to 1500m, VATC Dorian's Equitime P., 4th SAJC Cinderella S., L. Half-sister to SIR MIDAS, Sunset Beach (dam of MARDI'S MAGIC). Dam of 10 foals, all raced, 8 winners, inc:-
SLEEPING BEAUTY (Rip Van Winkle). 10 wins. See above.
Prosperous Bid (Carnegie). 3 wins to 1200m, A$78,940, HK$35,000, MVRC Australian Bananas H., Angel's Image H., SAJC SA Breeders' H., 3d SAJC Yallambee Classic, Gr.2, 4th MRC Tupperware Cup, L.
Canny Princess (Canny Lad). 2 wins-1 at 2-at 1400m, A$124,910, AJC San Miguel H., STC Mix 106.5 H., 2d AJC PJ Bell H., L, James HB Carr S., L.
Sea Island. Winner at 1200m. Dam of 5 winners-
HERCULIAN PRINCE (Yamanin Vital). 9 wins-4 in succession-1400m to 2400m, NZ$44,813, A$567,100, AJC Metropolitan H., Gr.1, STC Kingston Town S., Gr.3, AJC Japan Racing Association P., L, STC Neville Sellwood S., L, 3d NSW Tatt's RC Tramway H., Gr.3.
Shelly Bee. Placed. Dam of 4 winners-
IMA ROCA BEE (El Roca). Winner at 2 at 1200m in 2020-21, Levin RC Ryder S., L, 2d Wanganui JC Castletown S., L, 3d Wanganui JC O'Learys Fillies S., L.
3rd dam
HULA GOLD, by Rheingold. Unraced. Half-sister to HULA CHIEF, HULA DRUM, HAWAIIAN SONG. Dam of 13 foals, 12 to race, 6 winners, inc:-
SIR MIDAS (Sir Tristram). 3 wins 1400m to 2200m, A$276,320, Geelong RC Derby Trial S., L, 2d Victoria Derby, Gr.1, 3d VRC Australian Guineas, Gr.1.
Sunset Beach. Unraced. Dam of 3 winners-
MARDI'S MAGIC (Kenny's Best Pal). 4 wins-2 at 2-1100m to 1400m, A$204,385, STC Magic Night S., Gr.2, 3d BTC Bernborough H., L.
Surrealist. Placed at 2 & 3 in Aust. Dam of 9 winners-
RACING TO WIN (Encosta de Lago). 13 wins-3 in succession at 2-to 1600m, A$3,762,285, AJC Doncaster H., Gr.1, Epsom H., Gr.1.
Pinocchio. Winner at 1200m in Aust. Dam of 3 winners-
CLASSIQUE LEGEND (Not a Single Doubt). 6 wins to 1250m, A$8,635,500, to 2020-21, ATC Arrowfield 3YO Sprint S., Gr.2.