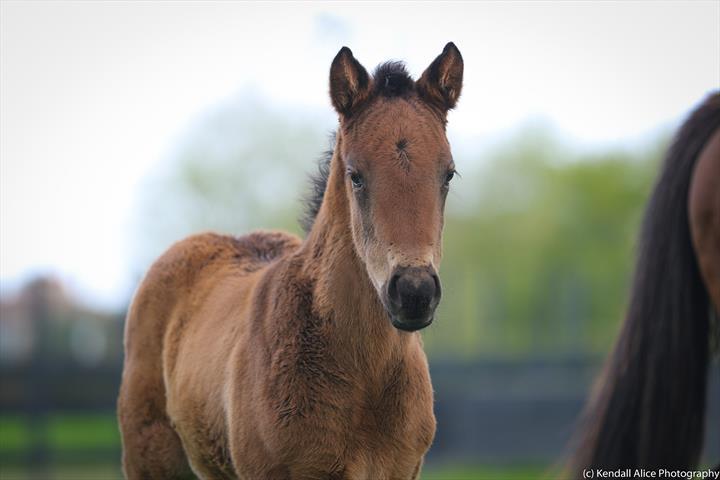 DOB: 27/08/19
Equanimity foaled a very impressive bay filly by leading sire Iffraaj. This More Than Ready mare won on two occasions and is herself the daughter of champion filly Insouciant.
---
Account of PENCARROW STUD, Cambridge.
Lot 378
BAY FILLY
Box H 34
Foaled 27th August 2019
Box Branded:
: nr sh; 4 over 9 off sh
Sire

Iffraaj (GB)

2001

Zafonic

Gone West

Mr. Prospector

Zaizafon

The Minstrel

Pastorale

Nureyev

Northern Dancer

Park Appeal

Ahonoora

Dam

Equanimity

2010

More Than Ready

Southern Halo

Halo

Woodman's Girl

Woodman

Insouciant

Keeper

Danehill

Loudenne

Palace Music
IFFRAAJ (GB) (Brown 2001-Stud 2007). 7 wins-1 at 2, Goodwood Lennox S., Gr.2. Leading NZ Sire of 2YOs in 2015-16. Sire of 1434 rnrs, 856 wnrs, 72 SW. His SH-bred progeny inc SW Gingernuts (New Zealand Derby, Gr.1), Jon Snow, Turn Me Loose, Wyndspelle, Fix, Serena Miss, Melt, Who Dares Wins, Kisses, Order Again, So Wotif, etc. His NH-bred progeny inc SW Ribchester, Rizeena, Jungle Cat, Chriselliam, etc.
1st dam
EQUANIMITY, by More Than Ready. 2 wins at 1230m, 1400m, ARC Pencarrow Stud H., 2d ARC Lindauer H. This is her third foal. Her second foal is a 2YO. Her first foal is an unraced 3YO.
2nd dam
INSOUCIANT, by Keeper. NZ Bloodstock Filly of the Year 2008. 4 wins at 1200m, 1600m, NZ$313,725, New Zealand One Thousand Guineas, Gr.1, Manawatu RC Eulogy S., Gr.3, 2d Waikato RC Sir Tristram Fillies Classic, Gr.2, 3d Egmont RC Stoney Bridge S., Gr.3, 4th Hawkes Bay Mudgway Partsworld S., Gr.1, Highview S., Gr.3. Half-sister to COPPER MOUNTAIN, Chateauneuf Dupape. Dam of 5 named foals, 3 to race, 1 winner, inc:-
Fallingwater. Unraced. Dam of-
Aqueduct (Dundeel). 4 wins-3 in succession-at 1400m to 2020-21, SAJC Spring Carnival H., Holdfast Insurance H., 2d Murray Bridge Gold Cup, L.
3rd dam
Loudenne, by Palace Music. 2 wins at 1400m, 1600m, Avondale JC Owairaka H., 2d Waikato RC Grayson Ottaway H., 3d Canterbury Breeders' S.H., L. Half-sister to Dalmator. Dam of 8 foals, 5 to race, all winners, inc:-
INSOUCIANT (Keeper). 4 wins. See above.
COPPER MOUNTAIN (Jetball). 5 wins-1 at 2-at 1200m, 1400m, Cambridge Breeders' S., Gr.3, Rotorua RC Winstone Wallboards 3YO H.
Chateauneuf Dupape (Darci Brahma). 7 wins to 1400m in Malaysia and Singapore, 2d Taranaki 2YO Classic, Gr.3, 3d ARC Diamond S., Gr.1.
4th dam
OUR LAFITE, by Sovereign Edition. 2 wins at 2000m, VRC Wakeful S., Gr.2, 2d VRC Oaks, Gr.1. Dam of 6 named foals, 4 to race, 3 winners, inc:-
Dalmator (Western Symphony). 2 wins-1 at 2-to 1575m, 3d VRC Edward Manifold S., Gr.2, VATC Thoroughbred Club S., Gr.3. Grandam of-
DORABELLA (Postponed). 5 wins 1200m to 1600m, NZ$427,925, New Zealand One Thousand Guineas, Gr.1, WRC Captain Cook S., Gr.1.
CRUSOE (Volksraad). 8 wins-2 at 2 and 3 in succession-1200m to 1600m, NZ$69,400, S$626,143, ARC Champagne S., L, Singapore 4YO Mile, L.
KUDAKULARI (Savabeel). 2 wins-1 at 2-at 1400m, 1600m, A$149,300, AJC Fernhill H., L, Canberra Guineas, L, 3d STC TL Baillieu H., L.
Different To. Raced once. Dam of 2 winners-
MEDIA SENSATION (I Am Invincible). 6 wins-2 at 2 and 3 in succession-1200m to 1600m, NZ$331,315, to 2019-20, New Zealand One Thousand Guineas, Gr.1, ARC Soliloquy S., Gr.3.
Calon Segur. Unraced. Grandam of-
GIN DARTRE (Volksraad). 5 wins 1300m to 1600m, NZ$100,790, Hororata RC South Island Thoroughbred Breeders' S, L. Producer.
---
News About Aequus (NZ)
---