Sire:

Iffraaj
Dam:
Foaled in 2017
♀ Bay Mare
---
Foaled 27/08/17
---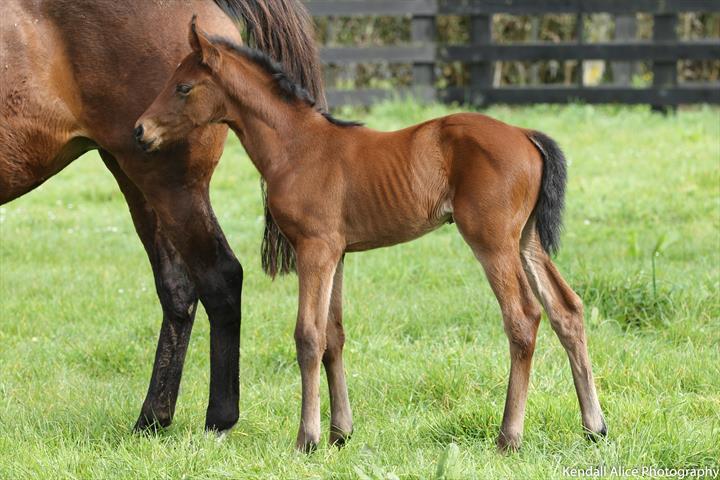 Kendoka has produced a threequarter sister to oustanding galloper Turn me Loose. This filly by Iffraaj is very typical of the family and boasts a pedigree which represents some of the best stallions in the world. Kendoka was a very competitive racemare and has made a great start to her breeding career having produced a smart colt by Per Incanto last year.
---
 

 KIKI (NZ)

 

Bay mare
Foaled in 2017

---

| | | | |
| --- | --- | --- | --- |
| Sire | Zafonic | Gone West | Mr. Prospector |
| IFFRAAJ (GB) | | Zaizafon | The Minstrel |
| 2001 | Pastorale | Nureyev | Northern Dancer |
| | | Park Appeal | Ahonoora |
| Dam | Reset | Zabeel | Sir Tristram |
| KENDOKA (NZ) | | Assertive Lass | Zeditave |
| 2009 | Kwan | Sadler's Wells | Northern Dancer |
| | | Commanche Belle | Shirley Heights |

---

IFFRAAJ (GB) (Brown 2001-Stud 2007). 7 wins-1 at 2, Goodwood Lennox S., Gr.2. Leading NZ Sire of 2YOs in 2015-16. Sire of 1634 rnrs, 985 wnrs, 81 SW, inc. Ribchester (Deauville Prix Jacques Le Marois, Gr.1), Gingernuts, Jon Snow, Turn Me Loose, Rizeena, Jungle Cat, Chriselliam, Wootton Bassett, Western Empire, Wyndspelle, Benvenue, Fix, Serena Miss, The Black Princess, Hot Streak, Beshaayir, Mythical Magic, Ikerrin Road, Powerful Breeze, etc.

 

1st dam

KENDOKA, by Reset. 3 wins from 1400m to 2400m, ARC Rotary H., Dunstan Feeds Championship Qualifier, 2d ARC George FM H. Half-sister to Martial Art, Indomitable (dam of TURN ME LOOSE). Dam of three foals, two to race, inc:-

Golden Link (g. by Per Incanto). 3 wins at 1400m, HK$3,445,380, to 2021-22, HKJC Wo Tik H., Sham Chung H., Snipe H., 2d HKJC Aquamarine H., Marigold H., Mr Medici H., Garnet H.

 

2nd dam

KWAN, by Sadler's Wells. Unraced. Sister to PUERTO RICO, blood-sister to FAIRY HEIGHTS, Peace Offering, half-sister to PERSIAN BRAVE. Dam of 8 foals, 7 to race, 5 winners, inc:-

Martial Art (Tiger Hill). 6 wins from 1400m to 2200m, NZ$63,425, S$503,125, Singapore TC Woodlands Classic S., Open H., Revolte S., ARC Auckland Airport 3YO H., Singapore TC Goodwill S., 2d ARC New Zealand Bloodstock Insurance Karaka 3YO Mile, Singapore TC Sha Tin H., Open H.-twice, Progress H., Graduation S., 3d Singapore Gold Cup, L, Singapore TC Class 3 H., 4th ARC Great Northern Guineas Prelude, L.

Kendoka. 3 wins. See above.

Indomitable. Raced twice. Dam of-

TURN ME LOOSE (Iffraaj). Champion Sprinter & Middle Distance Horse in NZ in 2015-16. 7 wins-1 at 2-from 1200m to 1600m, NZ$321,250, A$1,309,100, VRC Emirates S., Gr.1, MRC Futurity S., Gr.1, New Zealand Two Thousand Guineas, Gr.1, MVRC Schweppes Crystal Mile, Gr.2, Hawke's Bay Guineas, Gr.2, Seymour Cup, L, 2d MRC CF Orr S., Gr.1, VRC Paris Lane S., L, Hawke's Bay Guineas Prelude, Cambridge JC Cambridge Equine Hospital 2YO H., 3d Waikato RC James & Annie Sarten Memorial S., Gr.3, 4th MRC CF Orr S., Gr.1. Sire.

 

3rd dam

COMMANCHE BELLE, by Shirley Heights. Placed in GB and Ireland. Half-sister to BAND, ZIMBALON, Pop Song. Dam of 14 foals, 11 to race, 9 winners, inc:-

FAIRY HEIGHTS (Fairy King). 3 wins at 2, £139,794, Ascot Fillies Mile, Gr.1, Newmarket Sweet Solera S., L, Widow 2YO Fillies' S., 2d Doncaster Racing Post Trophy, Gr.1. Dam of-

Mr. Mahatan (Distorted Humor). 3 wins to 1400m in Brazil, 2d Gavea Classico Eurico Solanes, L.

Heart on Wave. Winner at 2, 2d Niigata Marigold Sho. Dam of-

Strong Leda. Placed at 2 in Japan. Dam of-

DANTSU PRIUS (Brian's Time). 4 wins-1 at 2-from 1600m to 2950m, 137,480,000¥, Nakayama New Zealand Trophy, Gr.2, Junior Cup, 2d Hanshin Arlington Cup, Gr.3, 4th Tokyo NHK Mile Cup, Gr.1, Hakodate Tomoe Sho, L.

Dynaffair. Unplaced. Dam of-

ASSEMBLY HALL (Sharp Humor). 3 wins from 6f to 9f, US$103,287, Assiniboia Downs Manitoba Derby, L, 2d Assiniboia Downs Gold Cup, L.

PERSIAN BRAVE (Persian Heights). 7 wins-2 at 2-from 7f to 2m, Newbury St Simon S., Gr.3, Doncaster Shield S., York Fitzwilliam H., 2d Newbury John Porter S., Gr.3, Aston Park S., L, 3d Chester Vase, Gr.3, Doncaster Troy S., L, Newmarket Godolphin S., L, Leicester Mercury S., L. Sire.

PUERTO RICO (Sadler's Wells). 2 wins-1 at 2-at 1m, 1¼m, Curragh Gallinule S., Gr.3, Irish Stallion Farms 2YO S., 3d York Great Voltigeur S., Gr.2, HKJC Edinburgh H.

Peace Offering (Fairy King). Winner at 9f, Leopardstown Sandyford H., 3d Leopardstown Ballysax S., L.Died at 3.

Belle of the Ball. Unplaced. Dam of-

Express Ball (Success Express). 9 wins-1 at 2-to 1300m, A$175,300, M$2,766,550 in Aust. and Macau, Macau Galaxy H., 3d VRC Maribyrnong P., Gr.2, Maribyrnong Trial S., L, MVRC St Albans S., L.

Equissential (Jet Spur). 11 wins-1 at 2-from 1200m to 1650m, A$383,000, BRC Queensland Reef & Beef H., Coke Zero H., Bundaberg Distilling Co H., 2d BRC Gunsynd Classic, Gr.3.

Kiss and Covert. Unplaced. Dam of-

MR PROFUMO - HERE COMES THUNDER (Mal.) (Falvelon). 16 wins-1 at 2-to 1400m, A$71,600, 414,714Rgt., S$45,877 in Aust., Malaysia and Singapore, AJC Kindergarten S., Gr.3, Singapore TC Kranji C S., 3d STC Gilette Fusion Phantom 2YO H., 4th Penang TC Dr Lim Ah Soo Memorial Trophy, L.

Josie Doocey. Unraced. Dam of-

Der Chef (Scat Daddy). 3 wins-1 at 2-at 1600m, 1700m in Chile, 3d Club Hipico Clasico Alvaro Covarrubias, Gr.3, 4th Club Hipico Clasico Criadores Machos, Gr.2.

 

Race Record:

Unplaced.
---
News About Kiki (NZ)
---