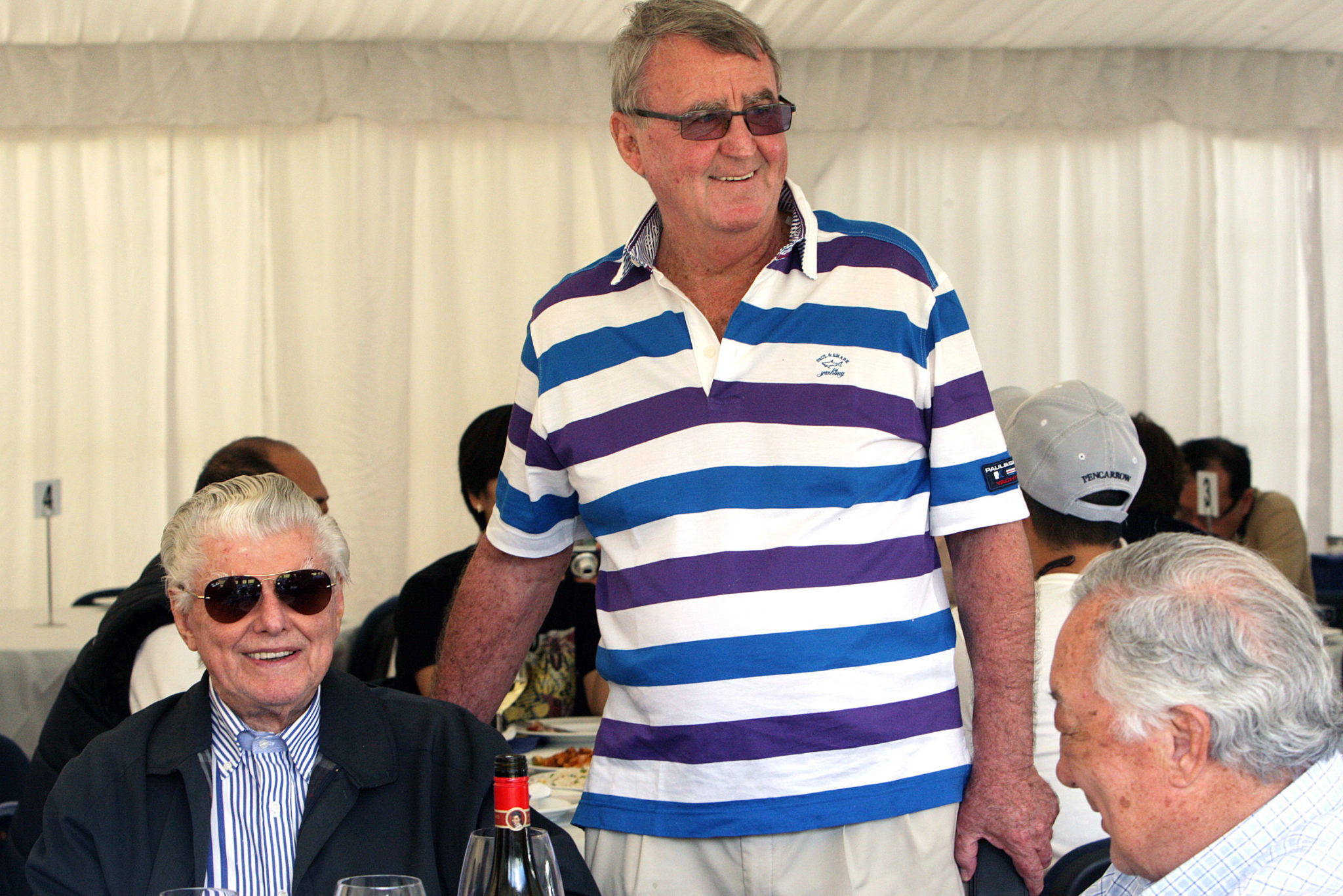 Tributes flow for Hall of Famer Laurie Laxon
---
22 July 2021
- Dennis Ryan, Race Form
Tributes from around the world have flowed in the wake of the death late last week of New Zealand Racing Hall of Fame trainer Laurie Laxon.
There's no surprise that Laxon has been recognised far and wide by his peers and admirers. A lifetime in racing garnered huge respect and massive rewards, from growing up amongst horses to become a trainer whose crowning achievement when based in New Zealand was a Melbourne Cup victory followed by his domination of Singapore racing during its heyday.
By all measures Laxon deserves to be acknowledged as a true international who brought not only immense personal acknowledgment but who also played a role in shining a spotlight on the New Zealand-bred racehorse in its most important offshore markets. That says much for someone who grew up like so many others in rural New Zealand through the mid-20th Century, underscored by that intangible quality known as horsemanship that enabled him to surpass his goals.
His family was steeped in racing history, beginning with a great-grandfather who owned the first ever winner under the rules of racing at Ellerslie in 1874. Ninety years later a teenaged Laurie Laxon watched from the Flemington grandstand as his family's horse Elkayel finished second in the Melbourne Cup. Elkayel, whose name was a composite of Laurie and his sister Kay's initials, raced in the ownership of their mother Florence following the death earlier in the year of their father Ted.
The Melbourne Cup experience coincided with Laxon becoming directly involved in racing as an amateur rider, which netted nine wins capped by the Duke of Gloucester Cup in his final raceday ride. He was making a living as a carpenter and part-time freezing works employee at Horotiu north of Hamilton before he was drawn fully into racing and established a stable at Ngaruawahia.
Laxon's status as a licensed trainer was by no means a guaranteed meal ticket. He still had to supplement his young family with building work while his wife Jenny worked nights as a cleaner at Ngaruawahia High School, but the young couple hit paydirt with Cobland, who in 1974 became the first horse to complete the Waikato-Great Northern Hurdles double.
That was the same year that Laxon saddled up the first of many winners for the brothers Philip and Peter Vela. It also meant a gradual transition to quality flat gallopers and a move to Cambridge, but in 1981 the family that also included sons Craig and Roger was tragically impacted by Jenny's death in a motor accident.
Through the same period a daughter of Sir Tristram named Noble Heights racing in the Vela colours dominated three-year-old filly ranks with wins in the Gold Trail and Lowland Stakes capped by her connections' first Group One victory in the New Zealand 1000 Guineas. Numerous other big wins were to follow for the Laxon-Vela combination, many of them and others in the growing Laxon string also having that Sir Tristram factor.
For Whakanui Stud principal Fred Bodle, Laxon prepared the giant Sir Tristram mare Empire Rose to become one of Australasia's best stayers through the second half of the 1980s. The immature version was a stakes winner at three, inspiring her transfer to Cups King Bart Cummings, for whom she won one minor race and finished fifth in the Melbourne Cup.
Empire Rose was to line up in the next two Melbourne Cups after returning to the care of Laxon, who by this time was based at the expansive training facility he had developed on the banks of the Waikato River south of Karapiro. Empire Rose finished second in the 1987 Melbourne Cup to fellow Waikato-bred Kensei, who burst through the inside to score by half a length.
In a remarkable example of Laxon's left-field thinking combined with intricate understanding of his horse, Laxon then booked Empire Rose on a charter flight back to New Zealand, not to Auckland however, but to Christchurch where, 11 days after her Flemington second, she trounced her rivals in the New Zealand Cup.
Safe in the knowledge that Empire Rose was an out-and-out two-miler, from that point on Laxon's singular goal was the 1988 Melbourne Cup. Tony Allan, fresh to senior ranks after starring as an apprentice, was well entrenched as Laxon's stable rider and remembers those time as if they were yesterday.
"I didn't ride every horse in the team but Laurie recognised my relationship with Empire Rose, who had her funny ways," he recalled. "He never put any pressure on you, just talked through things and gave you that confidence.
"After the mare had run second in the Melbourne Cup and then won the New Zealand Cup, I remember him saying to me that it didn't matter what else happened, we knew she'd get a start in the Cup and Laurie just set a path."
The path to the 1988 Melbourne Cup began with three local starts, the last of which was a third placing in the Egmont Cup, the same Hawera race that had preceded Kiwi's famous Flemington victory in 1983. Then to Melbourne, where the supposedly one-paced mare surprised everyone by winning the Mackinnon Stakes, the weight-for-age 2000 metres three days before the big one.
"We would have been happy to run fourth, but the way she felt that day I couldn't help thinking everything was perfect. I knew Laurie was feeling the same, but the day before when he and I walked the track he stayed calm, he didn't have you panicking."
History records that Allan gave Empire Rose a dream ride from her wide gate, letting her amble across the field down the long first stretch and then slotting her behind one of the renowned judges of pace, internationally proven New Zealand jockey Brent Thompson. After hitting the front with all of 400m to run, the big mare from Cambridge simply outstayed her rivals, the closest of which was the Mick Dittman-ridden Nastski, who got alongside but failed to get past.
"Laurie was the complete horseman and nothing worried him," added Allan. "For me as a jockey it was great, you had so much faith in him knowing how well he conditioned his horses and he was the same – he convinced you that you could do it."
A relationship that began in the early 1970s and developed into a lifelong friendship is something that Sir Peter Vela has remembered in the days since Laxon's death.
"It's with a great deal of sorrow and a very heavy heart that I reflect on Laurie's passing this week," commented Sir Peter, who is currently overseas. "He was a great pal and partner for the past 50 years brought about by a common interest in horses, an interest which took us on a wonderful journey from our first runner at Rotorua to our first Group winner at Hastings and from Gisborne to Royal Ascot, Melbourne to Sha Tin and a Hong Kong Cup with Romanee Conti. And then of course Singapore."
Since the Vela brothers' first major Laxon-trained winner Noble Heights, many more have followed. Riverina Charm was a four-time Group One winner on either side of the Tasman, while Romanee Conti, yet another by Sir Tristram, won the 1993 Hong Kong International Cup and became the dam of Ethereal, who was trained by Laxon's second wife Sheila to win the 2001 Caulfield and Melbourne Cups.
"He was a wonderful person and an incredible horseman and I very much look forward to getting back to New Zealand to celebrate his life with his friends and family," added Sir Peter.
Similar sentiments have been expressed by numerus others, including trainers Mark Walker and Bruce Marsh, who were both encouraged to relocate to Singapore by Laxon as he became known as the King of Kranji during his domination of training ranks there.
Laxon, who described his time in Singapore as "like I'd died and gone to heaven", remains the most successful trainer ever based at Kranji. In his 17 years there he claimed nine premierships and became the first to win 100 races in a season, and the first (and still only) trainer to reach 1,000 wins on the way to a full tally of 1,263 by the time he retired in 2017. His Kranji total is also believed to be a world record for any trainer at a single venue.
"He was an immense help to every New Zealand and Australian expat who went up there – myself, Mark Walker, Cliffy Brown, Michael Freedman, all of us," said Bruce Marsh. "He went out of his way to show us the ins and outs, how things worked up there, and he was always there if you needed any help.
"Obviously Laurie was a top-notch trainer, he will always be remembered for his huge success back home, in Australia and up in Singapore."
Mark Walker, a multiple New Zealand premiership-winning trainer with three further Singapore premierships, describes Laxon succinctly: "He was a character who was larger than life, but was also one of the chosen few who had that sixth sense with horses."